Friday, October 20, 2017 - Saturday, October 21, 2017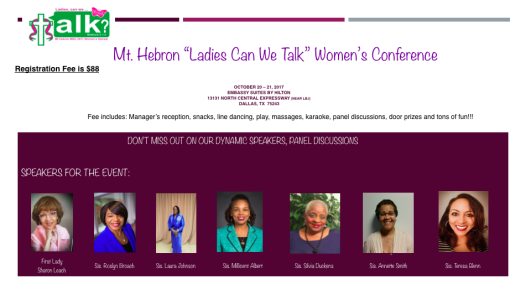 Make plans to attend the 2017 Women's Conference
Purpose/Goals of this Conference:
Spiritual Refreshment- to allow the participants to spend time some quiet time with God (through prayer and personal Bible study).

Relationship building- to encourage unity among the ladies attending the retreat.

Unity developed among those at the retreat spreads through the congregation as they return to fellowship.

Relationships at home are dealt with in a more positive and hopeful manner due to the chance to rest and find renewal in God.

To spur the participants to good works, to encourage them use their spiritual

gifts for the edification of the saints when they return to their fellowship.
Have FUN!!!
Embassy Suites by Hilton-Dallas Park Central
13131 North Central Expressway Dallas, TX. 75287

Registration is $88/pp
Hotel room rates: $125 for double room - Sleeps 6
King room $105 - Sleeps 4
There is a free Manager's Reception on Friday beginning at 5:30 PM, followed by sessions at 7:00 PM. Saturdays sessions begin at 8:30 AM.
Hotel Room Reservation deadline is Friday, October 6, 2017.
Registration deadline for the WINGS Women's Conference and Vendors Fair is Sunday October 15, 2017.
The maximum number of spaces for the Vendors Fair is 10 per day. Spaces are going fast! Hurry and register!